The man who is splitting stones
says that the rock,
in the moment before it breaks,
speaks -
gives a leathery Yes
along its agreed lines
of surrender.
I thought of how,
when you slice a carrot
lengthways,
it springs apart from itself
as if it has been waiting
all of its life
for this relief.
Sometimes, says the man,
you get smooth stone
that does not so much crack
as slide apart
in great curved slabs.
I saw cooked codflesh,
gleaming.
He feels he is granting a favour
to the damp virgin rock-face,
that has not yet
been frosted with dew,
or salted, or crusted
with lichen.
This is one of seven of my poems published in Oxford Poets, 2007, and reviewed favourably in the Guardian. See an extract of Sarah Crown's Guardian review below:
The Guardian, Saturday 5 January 2008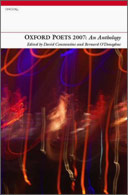 Oxford Poets 2007: An Anthology
edited by David Constantine and Bernard O'Donoghue
139pp, Carcanet, £12.95
When Bernard O'Donoghue and David Constantine (with Hermione Lee) published the first Oxford Poets anthology in 2000, their attitude was unashamedly brisk. Claiming to hold "no editorial programme or ideology beyond the desire to represent the best", they championed a pared-back approach which extended to their bald presentation of the poems themselves. The work of the chosen six was required to stand or fall on its merits alone, unbuttressed by any biographical detail beyond the authors' names.
Seven years on and now in its fifth incarnation, the anthology is still dedicated to the exhibition of the cream of today's emergent crop, but the editors' hardline austerity is looking slightly softer around the edges. The number of poets has shot up to 17; each now receives a brief biography, and each ushers in his or her work with a page-long introduction (in which, variously, agendas are outlined and individual poems glossed). While it's easy to make the case for these revisions (one can sympathise with the editors' desire to give a leg-up to as many poets as possible in a crowded marketplace), their effect, in the end, is to dilute the anthology's impact. The babble of so many voices makes it harder to pick out individuals; the additional background noise, meanwhile, muffles rather than clarifies. Which is a shame, because, if you take the trouble to tease them apart, there are some very strong poets in the mix.
In a reversal of the usual trend in anthologies (and on prize shortlists, for that matter), women outnumber men 12-5 here, and the ratio exerts a tangible effect on the collection's atmosphere. One comes away with a sense of having entered a materially female universe; not simply domestic (although domesticity does figure) but fierce, intimate, maternal, essential. In "Severance" (imagistically one of the outstanding poems of the anthology), for example, Frances Thompson points up the value of a traditionally low-status female domain when she likens her work in the kitchen to a quarryman's. The massiveness of his materials and the power of his actions elegantly illuminate the substance of her own:
Sometimes, says the man,
you get smooth stone,
that does not so much crack
as slide apart
in great curved slabs.
I saw cooked codflesh,
Gleaming.
(extract)